Tennis at Lake Wales Country Club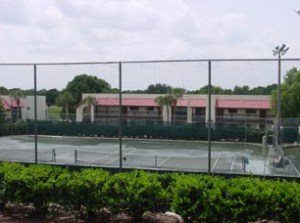 At Lake Wales, we are proud to have an excellent tennis program for juniors, teens, high school teams and adults. Top-notch facilities include our four new lighted clay courts. Our Director of Tennis, Joe Hignight, holds tennis lessons and clinics throughout the season.
Many of our players start out in the junior program and go on to qualify at the state level in high school competition. Enjoy tennis at Lake Wales to experience the thrill of competition or simply to have fun and partake of the combined tennis and social events.
Players of all levels find LWCC tennis both fun and challenging. Joe Hignight holds many enjoyable tennis events throughout the year, from top-level competitive tournaments to social mixed doubles. Our USPTA tennis pro provides lessons as well as clinics throughout the year for both children and adults.