Lake Wales Practice Facilities
When you're playing at Lake Wales, be sure to take advantage of our outstanding practice facilities. It's a good idea to arrive early for your tee time and spend some time warming up. Better preparation should translate to an improvement in your score.
Consider following this 30- to 45-minute program before your next round…
Instead of hitting the driving range, start this time at the practice green and hole out each putt.
THEN go to the driving range and start with some wedge shots. Work your way up through the clubs in your bag. Our large driving range is set up with grass tees to enhance your practice experience. Finish your range session by visualizing playing the first few holes…just imagine you are facing the first fairway and hit a drive, then take the next couple of shots, ending up with your pretend-approach to no. 1 green.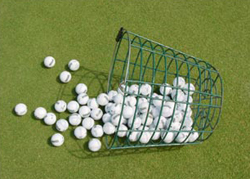 Finally, head over to the practice bunker located near the range to practice your sand shots and pitching, holing out everything.
Using this practice routine on our facility should enhance your enjoyment of our course and improve your game.
Range Policies
Balls will be stacked daily from 7am-5pm, except Monday when range will close at 3pm.
All Golf members will have inclusive range privileges daily.
Social and Tennis members will have inclusive range warm-up privileges twice a month on days they play and on other days will be able to purchase day passes for practice at the rate of $10.
Guests of members will have inclusive use of the range for warm-up on days they play and on other days will be able to purchase day passes for practice at the rate of $10.
After 5pm, the balls will be picked and locked up. Any member wanting to practice after that can use the range as a shag range. Upon request, we will furnish shag balls if the member wishes to pick them up or range balls if the member does not wish to pick them up. These arrangements must be made in advance with the Golf Shop.
These inclusive privileges do not extend beyond the designated member and do not include house guests, children, grandchildren, etc. Anyone other than the member must purchase a day pass for practice at the rate of $10 on days that they are not playing.